We left Polesworth after a great night with Roger and Pat (The Cat's Whiskers) and continued on towards Tamworth where Suzie got all excited as we come across our first swing bridge........hehe
Not what we expected but it's still the first!
As we continued on our way we were met with calls from boaters coming in the opposite direction shouting "watch the boat round the bend" and "stay left round the bend" so, cautiously around the bend we went now, on "The Cut" we generally cruise down the centre but pass boats coming the opposite way on the right so staying left round a bend could prove that Narrow Boating is truly a contact sport.....slowly we go only to be faced with this.......
Couldn't spot a notice on the boat?
We got to Tamworth and moored up just outside the town. Suzie and I are not Town/City people and much prefer mooring in isolated spots but hey, sometimes need must.......it's better to pay £16 for 30 cans of Carlsberg than £7:50 for 8! So, off I go to Tesco with my sack truck. I do get some funny looks but it just makes sense......get the bargains when you can (I've just counted our beer stock, we've over 280 cans of assorted beers and ciders....happy days)
Whilst moored up at Tamworth I hear this Swan going nuts first thing in the morning.......luckily it was just having a wash and preening itself and nothing more!
With Swamp Frogs re-stocked with the essentials we head of early the next morning and take a slow cruise to a place called Hopwas and moor between 2 Canal side pubs.....The Tame Otter and The Red Lion. We take a walk through the village (10mins) and just enjoy the rest of the day sat on the boat chatting to passers by....it is so nice that people seem to have the time to stop and chat whilst walking the towpath, so different from any High Street in any Town. I mean, one woamn even said "if you need anything, a shower, need the washing machine, anything at all just come and knock my back door".....we could tell that she was sincere in the offer....how nice eh? can you imagine saying that to a stranger parked outside your front door????.....No, it just wouldn't happen!
Early next morning we are up and ready to set off. It would appear we are not the only ones to make early starts. Graham and Liz from NB Down to Earth slowly make there way past us around 06:00 whist we have a cuppa before setting off around 06:30 ish. It is the best time to travel as we are both early riser's and it just makes sense to us, it's quieter for a start and wherever you are heading for, people have left so it's easier to find a mooring in popular places.
We arrive at Fradley Junction and moor up and spend the day/night here....we had planned to carry on but it was so nice we called it a day so we could explore.
The Swan Inn as it is today
The Swan Inn from over 50yrs ago
It's not just roads that need
signposts!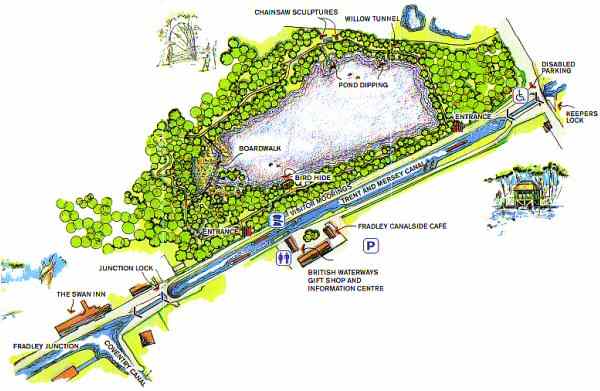 Fradley Junction map.
While here we visit Fradley Pool now a Nature Reserve but it's original purpose was a reservoir as constant water supplies are essential for canals and the Trent & Mersey Canal Company didn't want to lose any to their rivals, the Coventry Canal Company. So they built an ingenious overflow weir and channel which carried the main flow of water from above Middle Lock, around the Junction, under The Swan and behind the cottages at Junction Row, to Fradley Pool, where it was stored. When water was needed for their canal, they released it into the canal near Keeper's Lock.
Suzie is looking for the alleged penguins
Well spotted......these are RARE!
You have to see these to believe it!
Hmmm.......not sure what to say?
Who is following who?
Not a lot of room
Our first "proper" aqueduct.
A Buzzard just taking off!
We leave Fradley Junction having spotted the Penguins and pop into Kings Bromley Marina where I hoped to get the oil and filter ready for me doing my first service.....I got the filter but no oil! I now had to reverse Swamp Frogs out of the Marina.......easy, although I've not done this before but we managed it ok (with a little help from the bow thruster) and on to Rugeley to get some oil. Having got the oil we are currently moored 2 mls from Great Heywood.
Our garden for today.
Fred and Lisa, who we met over a year ago and own
NB Chyandour
are not too far away and we hope to meet up with them before we both take different routes off the Trent and Mersey.........
.......Till next time!
Since the last blog we've done 26 miles, 7 locks.
This gives a grand total of 146 miles 100 yards, 94 locks and 6 tunnels (tunnels over 1000yds only).